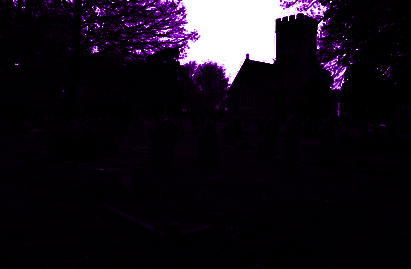 It stands still as I look out
Something permanent
Not sad
Yet a peaceful unrest
Bewitches the last voices
That die out.
Down in the graveyard
Night has fallen
The light has slowly faded
Into a heavenly and sacred silence.
As the last of the living energy
Joins their own world
With hearts that soar
As they remember the lost souls,
A breeze stirs the air
And the thin line of real and surreal
Becomes even thinner
A spiritual world awaits
On one side
Sighing and thinking
About pleasures of life
Peacefulness of death.
They stand by, alert,
Still awake
From the stir of the day.
And, slowly, as the world
comes to peace
with death
And death
Finds peace
In death.
Calmness spreads across the graveyard
Now more a garden
Than a reminder
Of the art of losing.
A small moment of rest
Until the battlecries
Of lost causes
Start again
Shattering the still air.
Tonight
It is peaceful
Tonight
No new souls are claimed
Down in the graveyard.
By: Isabella Stanich